Home makes us happy. People have fundamental attachments to space and place, especially is home. Home is a sanctuary always keep us alive some of the strongest sources of what has given our life meaning, safety and happiness. In the last century, our home becomes a spread of our identity and image, its intrinsic part of us to explain that individually as something external to us. Interestingly, a home becomes expressions of people, but identity also becomes an expression of their home. Are you assessing people with their home renovation? Such as what style of home it is, who is his/her interior designer, how he/she decorate it, what other structural elements are taken into account for their home, etc.
Nowadays there are more and more people realize the true importance of having a home renovation expert, with a presentation comfortable and pleasant for all. Renovation is a process that provides its customers with a series of delicately pleasing but efficient schemes for better use of the space in question. In Singapore, Albedo Design guarantees to give your home the best renovation. Our goal is to improve the customers' experience by preferably managing the space available in the intervened environment based on customer's need. The designers in Albedo Design will provide you with a professional evaluation of your situation, that will lead you to a solid plan. Then, you may fantasy what your dream home might look like. Everything in a design plan is key in decision making what can be amended or should be edited. This benefit not merely effects on the budget but help you save the time and spend your money more expeditiously. We create environments that suit and unite the personality and lifestyle of the customer.
Albedo design has completed home renovation projects in Singapore. Our designer experts enhance the space and quality of your life in space and make your house a home. We provide one-stop renovation service with an optimal price so that everyone can decorate their space as per their budget. We have only one challenge- help people live better in their home. Our company believe design always link with "human experience". We do not merely create aesthetically pleasing and functional interiors. Instead, we believe that spaces too, require soul – we strive for quality in substance. We hope to provide people with a space that sustain their families more than just create a beautiful house. Let Albedo Design help you tell your visual story about your home.
Here are some projects that we have done so far: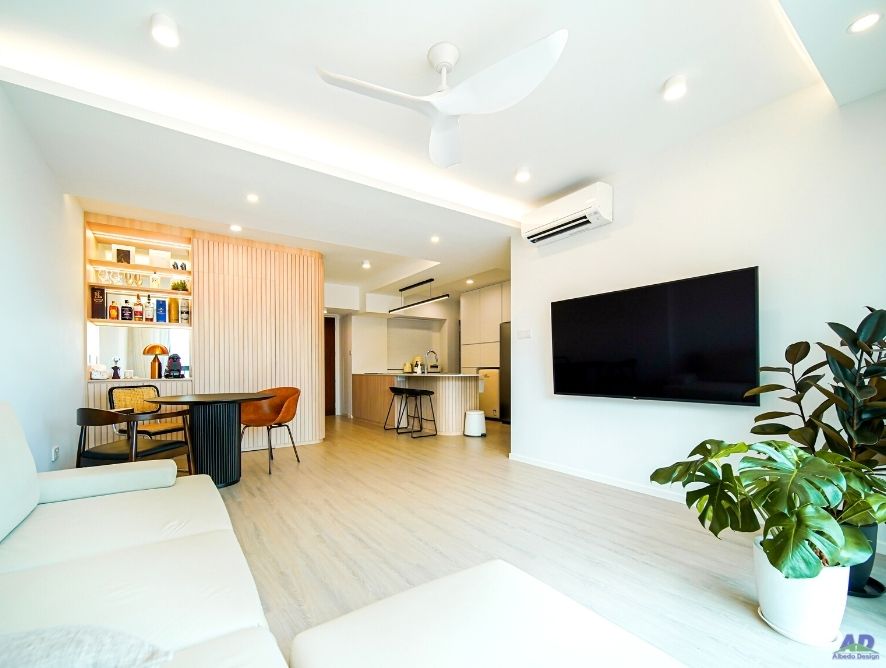 Theme: Modern Contemporary
Theme: Minimalist
Theme: Modern Cotemporary Design
We will need to understand which kind of lifestyle that we prefer, so that we can define what is our dream house. A home is a cozy space you enjoy spending time in your every day life, not not only to plan your home's appearance but also the functional floor plan.
Contact us!
If you in need of best interior designer or renovation contractor in Singapore then get in touch with us and we assure you best service at competitive rates.