We are providing workplace strategy, boosting real estate value, increasing talent retention, and driving company-wide performance. Great office interior design by office interior designer allows employees to work as efficiently as possible while maintaining brand cohesiveness. Ensuring your employees are happy and comfortable in the workplace will lead to increased productivity.
This is accomplished by providing numerous workspaces where employees can go based on the type of job they are performing. Although there are no official regulations for interior design, a company's office space usually reflects what the company does or the industry it operates in. The purpose of the office space and the message you want to portray about your organization are significant things to consider when picking a style for your office space.
The increasing availability of innovative technology has given numerous ideas for office design in Singapore. From door automation systems to enclosed pod offices, these office design has impacted the office layout and structure. With so much of the modern office design around, it will be a hard task for companies to choose a suitable and ideal design ideal for their company.
The term "contemporary office design" is self-explanatory; it refers to the styles that office interior designers are now developing for workplaces. Today, though, we'll take it a step further and describe a few crucial features of modern workplace design. Take a look at them here :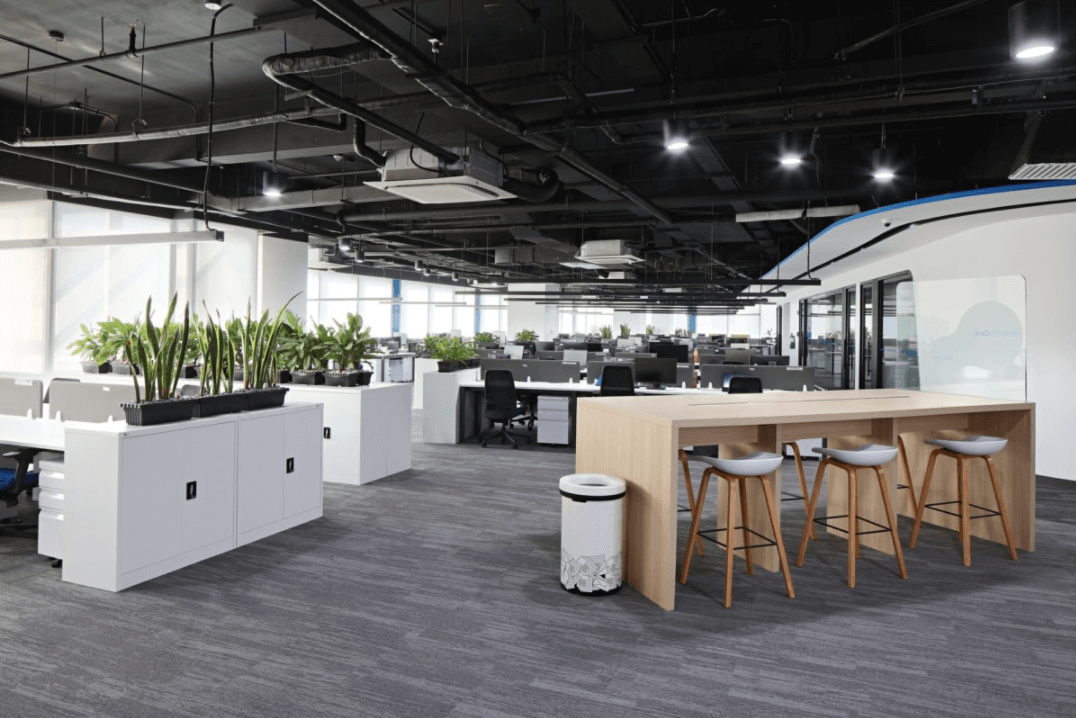 Efficient
A well-designed office can be useful in a variety of ways. The first, and arguably most obvious, consideration is how well a design fits into a specific location. Modern contemporary offices are designed to utilize a company's available real estate. The space in Singapore is limited, the office space designer must expert in small space planning. Furthermore, efficiency can refer to the speed with which a design firm can accomplish a refurbishment job. Finally, most business owners want office redesigns to achieve numerous goals at once in order to save money. To summarize, modern contemporary offices are often efficient in terms of space, time, and money.
Stimulates Creativity, Collaboration, And Communication
The three Cs of business — creativity, cooperation, and communication — are traits that all managers aim to instill in their employees. When the three Cs pervade everything, your staff do, high-quality work is the consequence. There are many ways for managers and business owners to encourage creativity, collaboration, and communication among their staff, but one of the most effective is through the work environment.
Allows Team Members To Focus And Concentrate When Necessary

As previously said, a modern office environment should encourage collaboration and communication. However, there is a thin line between the correct amount of collaboration and communication and overdoing it.
Your team members will also require a quiet space where they may concentrate and focus on their own or in small groups. This must-do task should be accommodated in your workspace. If it doesn't, you risk alienating the part of your team that relies on silence and stillness to get things done. The meeting room or conference room is important in a company. That way, your team members can transition from each activity when the need strikes them without affecting anyone else.
Focus On Wellness
Your contemporary office environment should support your employees' health and well-being. Remember that a happy and productive team member is one who is healthy. Healthy foods should be kept in the pantry. To make a place for yoga lessons, move the furniture. Also, host events in the workplace kitchen so team members can prepare a meal and eat it together. These and other wellness habits can help your employees stay more focused and interested in their work.
Tame The Noise
When planning a modern office space with office space designer, the sound reduction should be a primary concern. Large, open spaces are notoriously noisy and can seriously affect your team's productivity.
You can minimize this problem by using sound-abatement tools, such as:
Soft furniture (e.g., fabric couches and chairs)
Acoustic ceiling and wall panels
Curtains
Quiet keyboards
Vinyl flooring (rather than natural wood or ceramic tile)
Noise-canceling headphones
Plants
Any (or all) of these options will significantly reduce the noise pollution common to large, open office spaces.
How Can Office Interior Design Benefit Your Business?
Offices are not just only a working place; it is more than that. A good office design has the potential that transforms a wide range of business operations. It also determines how you present your business to your clients and employees. Not only this, but an interior design of the office enhances the productivity and efficiency of your business.
There are many advantages for your business, from interior office design. But you can only achieve them when you engage with professional office interior designers. Below, we are mentioning the benefits of professional office interior design services:
They will help you to create an interior design for your office that matches your business branding.
A good office interior design can enhance employees' productivity and well-being.
They will design an office environment that creates a positive and lasting impression of your business.
Hiring an interior office design professional will also save you time and money.
If you are looking for design professionals, connect with Albedo Design experts. We have years of experience and polished skills in interior design to help you transform your workspace into a place that brings success. Whether you want to renovate and design your office from scratch, our team has the expertise and experience to help you achieve your objectives.
We Lighting Your Dream
If you're renovating your house and need some expert advice,
contact us
to speak with interior designers today!