Are you planning for renovate your home or commercial space? It's important that you find a Singapore renovation contractor you can trust to bring your vision to life and keep the process under control as interior renovation is a multifaceted undertaking. You need to make right choice on professionals who can manage all aspects of a home renovation, from design to construction and even project management, to ensure it's completed on schedule and to your satisfaction.
Albedo Design stand as a renovation contractor in Singapore and we can design and build your dream home. We will take on the responsibility of planning the project, drawing up the designs, costing, sourcing the building materials and supplies, building the structure, installing any permanent features and possibly advising on the interior design of your home; all while consulting you every step of the way. Albedo Design also offer renovation packages that contains the bare essentials for each room or whole unit.
If you are renovating one or a few rooms of a Singapore private condo or house, a Albedo Design can still help you as a renovation contractor– we can design a kitchen, bathroom, bedroom or living room and then complete all of the renovation work for you. This could be a really good option if you are selling your home and want to increase its value quickly – hire us to redesign and renovate a few rooms of your house without the hassle of dealing with various professionals or the time-consuming effort of doing it yourself.
Albedo Design is one stop renovation contractor in Singapore who can design a house, or room, for you. You don't need to look for more specialized contractors, designers, architects or builders to help you renovate or build your own home or your business place, then you can still find us for any need of related professionals and vendors to complement the work of general contractors: Architects & Building Designers, Interior Designers & Decorators, Landscape Architects & Garden Designers, Kitchen & Bathroom Designers, Specialty Contractors.
Albedo Design is one-stop interior design, decoration and renovation contractor in Singapore that you can trust. We implement all projects with strong experienced in-house teams and all carpentry works are also done in own Singapore local factory.
Office Renovation Contractor Singapore
There are many companies in Singapore that always seek to save money by purchasing only the cheapest possible furniture pieces and utilizing an assembly line-type process to arrange the pieces in such a way to accommodate a large number of workers in a smaller-sized space. If you're looking for the top office renovation contractor in Singapore, you've come to the right place. Office spaces are constructed to last a long time, functional, and comfortable. This ensures that all of your employees are working in the best conditions possible. However, a workplace will inevitably experience significant wear and tear over time. This means that some parts of the structure may be destroyed, as well as office furniture and equipment. If this happens to you, save time and money by hiring a renovation contractor that specializes in office renovations.
Nowadays, however, many businesses are rethinking this process as they begin to discover that these particular types of office interior design concepts have a truly negative effect on the overall performance level of their employees. In addition, research studies have been conducted which show that employees will work much more productively when the more "traditional" model is not imposed.
Many reasons exist for a business or public agency to pay for office renovation. In the case of working environment, a well-designed space may be more attractive to customers, giving motivational space for employees and persuading them to spend more time there. In other cases, an office renovation project may have goals such as establishing a theme that projects a particular corporate image. For example, a tech company may furnish its office with a contemporary theme to convey its focus on efficiency and the future (both common themes in contemporary design).
Albedo Design, as office renovation contractor, we are responsible for understanding a client's needs and working within a budget to achieve them. This involves first meeting with whoever is in charge of a renovation or construction project, as well as the architect, to lend ideas. We will produce sketches or models of 3D drawings to help clients visualize the space. Later our designer must find furnishings that can go into the completed space.
Nobody willing to spend their most productive hours of the day in an uninviting office. Albedo Design Pte Ltd is a market leader in office renovation. We specialist in new office fitout, office renovation, office refurbishment and office remodelling. As an interior office renovation contractor in Singapore, we understand that the most important factors are planning, experience and workmanship. Whether you're renovating making minor changes or big renovation project, we're your one-stop solution partner. We constantly carry out our responsibilities in a professional manner. We also recognize that for your company, time is of the essential. That is why we make every effort to complete the job on schedule in order to minimize your inconvenience.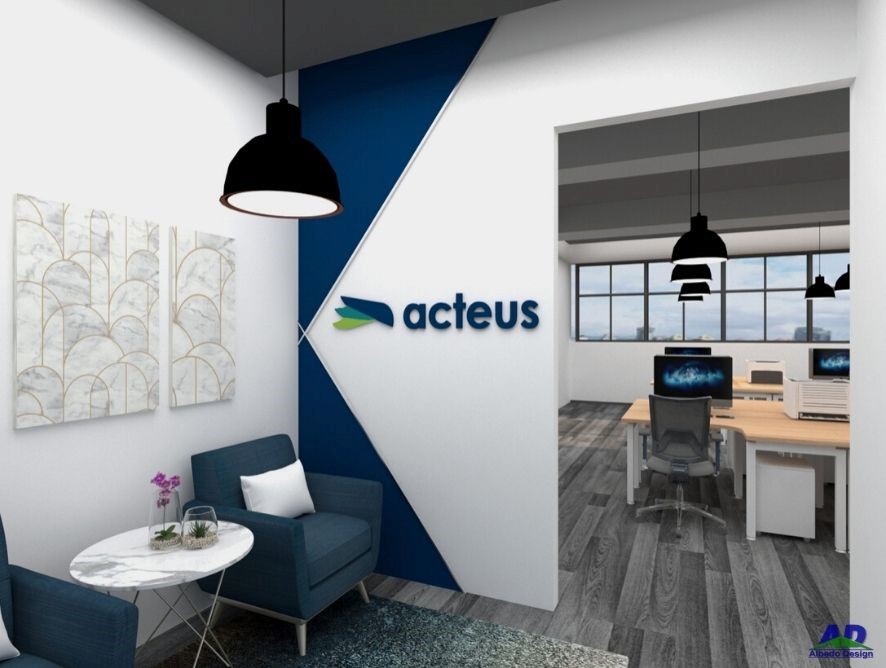 Office design makes use of a wide range of design skills. The first is the ability to understand a client's plans for the space. Albedo Design can also suggest new ideas that are in keeping with the overall design goals. Our designers have an understanding of the elements of design, such as line, colour and form, as well as a grasp of the history of design and the contemporary trends in the field. Finally, we are office renovation contractor in Singapore and we have access to a network of suppliers who can provide the proper furniture, carpeting, light fixtures and wall art for the project. Whether you're renovating the entire building, making minor changes, opening a new office, or looking for office system furniture, we're your one-stop shop.
What is The Difference Between a Renovation Contractor And an Interior Designer in Singapore?
If you are looking to renovate your space for the first time, you might have this question in your mind: Renovation contractor vs Interior designer? Who should pick? This is one of the most frequently asked questions when it comes to renovating your space. As the industry grows, the lines between an interior designer and a renovation contractor start to be finer.
Let's to See The Different of Between Renovation Contractor and Interior Designer!
| | |
| --- | --- |
| Interior Designer | Renovation Contractor |
| Construction and building services are likely to be outsourced or sub-contracted. | Contractor has own in-house team of carpenters and workers. |
| The cost renovation of an ID firm commands a higher professional fee because they provide design and project management service. | The renovation cost usually cheaper. Because you are paying the supplier directly. |
| Suitable for first home buyer, or first properties buyer who have no idea where to star or don't have time to plan your renovation. | Suitable for people who already have an idea of what they want and can afford to manage their renovation on their own time. |
| The ID/site manager responsible to manage all the vendors and supplier. ID will always update the renovation status to you. | Your contractor might have many vendors and supplier so that you need to manage during the period of your renovation. |
For summaries, the choice of an interior designer or contractor is depending on your requirement and budget. In other words, ID do everything for you but expensive; contractor cheaper but rectification or any design hiccups may cause you to pay more than you originally wanted to. Take some time to find the right person to renovate your house!

Albedo Design offer one stop interior design service for residential and commercial project with affordable price. In order to reduce the renovation cost, we float a carpenter factory in Singapore that aim to provide custom-made furniture at affordable prices in Singapore.
Living Room Interior Renovation Ideas
For those of you with small living rooms, you might be tempted to just throw in a sofa, a coffee table and a TV and be done with it. You can do much with your space if you have perfect interior arrangement. Think of focal point where first things people see when they enter the room. Interior designers give you standout ideas for the placement of focal points.
Use simple bright colors for the walls of your living space and let the natural light in. Bright walls will naturally reflect the sun which enlarges the space and make it look more lively. There is no need to use a bunch of colors to liven up a room. Let nature do it for you!.
On the off chance that breakdown of the cost of home renovation in Singapore, you'd see that tiling is most expensive items. With so many choices to choose from tiles, you need consider about cost effective and long lasting.
Choose a rug or carpet that is big enough for all your living room pieces to sit within. But if that is not possible, at least make sure the front legs of your sofa are able to rest nicely within the carpet or rug.
As your living room has to accommodate for different purposes so your furniture has to respond to those needs. In order to avoid clutter, you should choose pieces which are multi functional.
Mirrors are a famous choice in expanding a room's appearance. If you are not a fan of a full wall mirror, you can opt for vertical or horizontal mirrors and place them near a window. The mirror will catch normal daylight and light up the vibe of a room.
Select the appliances which are energy and water saving. To save your electricity bill in the long run, I would highly recommend that you pick appliances with are energy efficient during your furnishing process. To save money on water cost, do pick a water effective taps, showers and toilet bowls. Showering, flushing represent about portion of water utilized in homes.
Process of Successful Office Renovation
Office renovation is an essential aspect for businesses in order to maintain a successful and productive work environment. As we all know, the process can be extensive and requires careful planning and consideration of crucial factors such as budget, timeline, and design. This is where a well-designed office renovation design process can help you, which will surely bring a successful outcome.
There are Some Steps That You Should Follow For Your Office Renovation Design:
• Identify the Renovation Objectives.
You should always start an office renovation with a clear renovation objective. Why are you renovating your office? You should be clear on the goal, whether it's to improve productivity, enhance your workplace branding, build a greener office, or simply go with the flow. This information will help you better plan and design the development of the office renovation process.
• Create a list of Office Requirements.
When you decide on the objective of renovation, you should create a list of the functional needs for your office to give Office Renovations Company. Your list should include some crucial things like the number of employees present in the office and what furnishings you want to retain in the renovation.
• Set a Timeline For the Renovation Project
Before starting a renovation for your office, you should set a timeline for the project. You have to discuss with the office renovation contractor a specific time period in which they will complete the renovation of your office.
• Decide on a Budget for Renovations.
This is one of the most important steps in office renovation. Every business owner decides the budget for office renovations before starting the process. We all know the cost of workplace renovation depends on a variety of variables, but budgeting is crucial for the project's success. You can ask an office renovation contractor for a remodelling quotation so you can identify which quotation suits your budget.
If you in need of best HDB Renovation, BTO Renovation or Commercial Renovation in Singapore then get in touch with us and we assure you best service at competitive rates.